Several members of the general public have recently reached out to us regarding phone calls, emails, SMS messages, and WhatsApp messages impersonating Nytelock Digital.
Scammers use phishing attempts to mislead you into sending money to them or to get sensitive information from you, such as passwords, credit card and bank account information, or personal information.
Please do not disclose any personal information, such as your complete name and bank account details, or transfer any money if you receive a call, email, or SMS purporting to be from Nytelock Digital. Please do not respond to or click on any hyperlinks in the email or message you received, even if it contains the Nytelock name or emblem.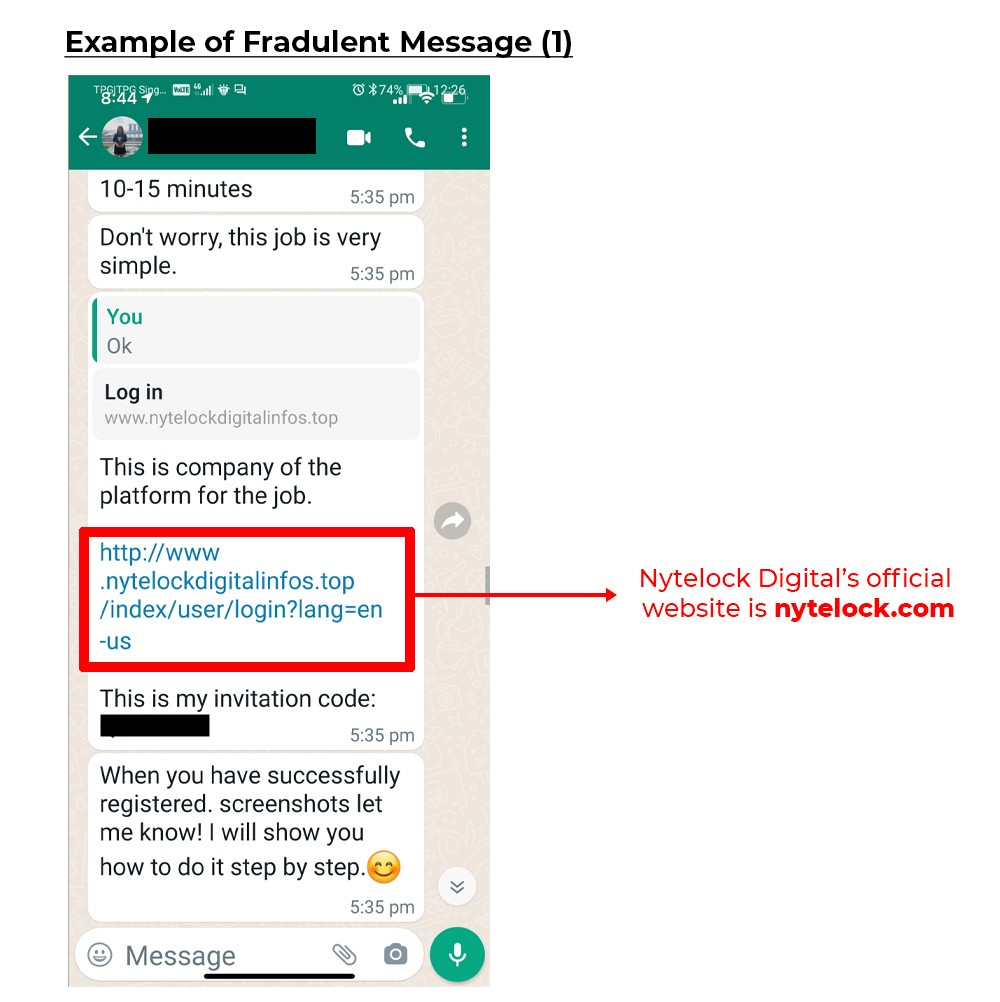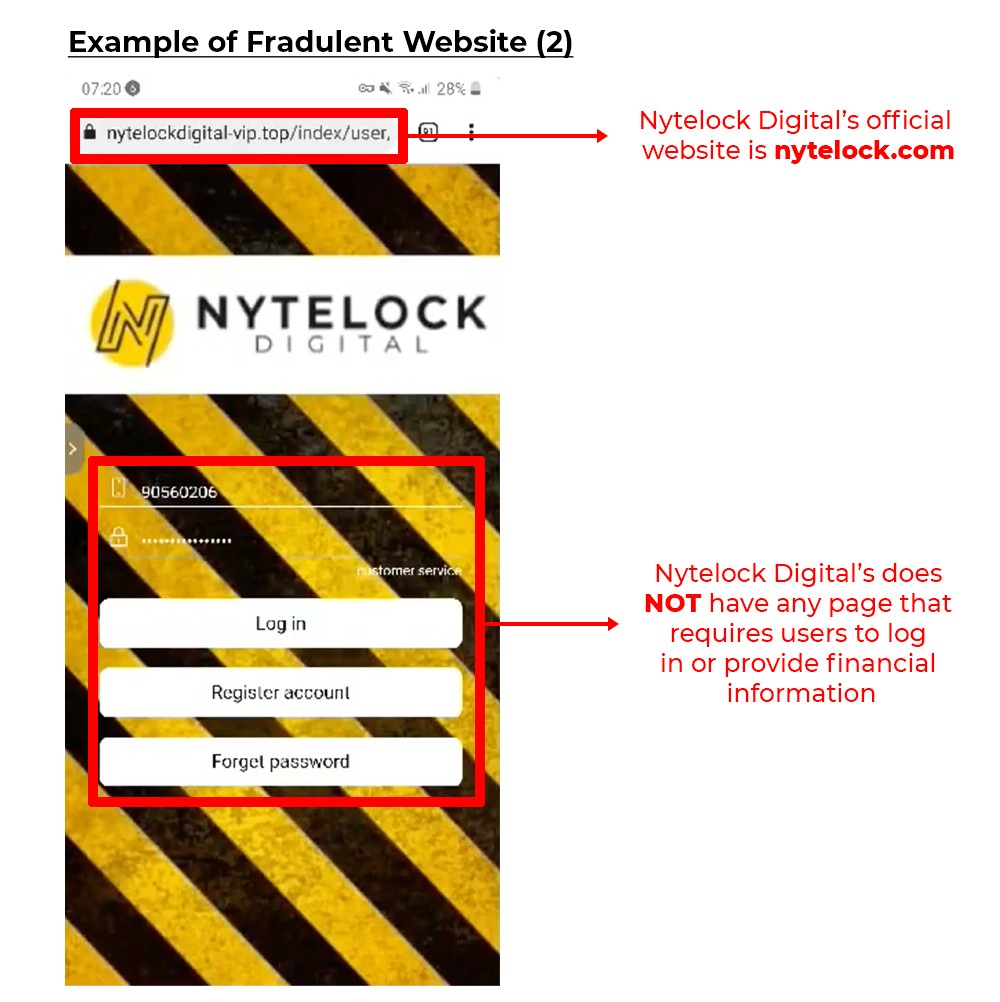 How to assess the legitimacy of calls, email & SMSes?
Nytelock Digital does not initiate automated voice calls and our primary language of communication with customers is always English first, unless otherwise requested specifically by the customer.
All official emails from Nytelock Digital will always be sent from email addresses ending with "@nytelock.com". Emails will not be sent from personal email accounts such as Hotmail, Gmail, or other unfamiliar email domains. We also do not initiate any SMS asking you to claim a prize or to make any form of payments by clicking on a link in the SMS.
Nytelock Digital is working closely with the Singapore Police Force to take down fake websites and stop fake SMSes, to prevent the public from falling for such scams. You may lodge a police report if you receive such calls, email or SMSes.
If you have further questions, please send us an email at [email protected]
You may also visit the National Crime Prevention Council's scamalert.sg website for more information about various types of scams.
How to avoid phishing attacks?
Here are some general tips to protect yourself against a phishing attempt:

Beware of emails or SMSes asking you to click on links in them or to reply to them. Links may lead to a website, asking you to provide a confirmation or for your personal, financial, or other sensitive information.
It tends to also sound threatening, or urge you to act quickly.
When browsing websites, beware of pop-ups. Do not click on hyperlinks, download files, or open attachments unless you are sure that the source is legitimate. If in doubt, always check the URL of the page you are browsing to make sure you are on a bona fide website.
Beware of SMSes asking you to claim a prize or make any form of payment by following a hyperlink, especially if you have not participated in any lucky draws.
Look out for any security warnings displayed by web browsers and any security software. If there is a security warning, it is best to follow it.
How to spot phishing/fake websites?
A phishing website may use our official branding and logos to try to trick you into visiting a fake website and providing your personal and account information. It may also ask you to call a phone number and provide account information or provide payment to an unknown bank account.

The one and only official website that is safe to use is www.nytelock.com.
What should you do if you receive such phishing emails?
To safeguard yourself, please be extra careful when you receive an unsolicited email or all other forms of communication asking you to provide confidential or personal information. Under no circumstances should you give personal information including credit card or banking details to third parties via email, letter, SMS, or phone until and unless you have verified the authenticity of such requests.
Check the full URL to ensure that the website is legitimate. Nytelock's URL is always www.nytelock.com., For example:

www.nytelock.com
www.nytelock.com/about-us
www.nytelock.com/contact



It should NOT look like these:

www.nytelockdigital-xyz.com
www.nytelockdigital.com
www.nytelock.com.xyz.com
www.nytelock.net
www.nytelock.org



All official emails from Nytelock Digital will be sent from addresses ending with "@nytelock.com". They will not be sent from personal email accounts such as Hotmail, Gmail, or other unfamiliar email domains.
Our email replies are usually signed off with an officer's name, designation, and contact information.