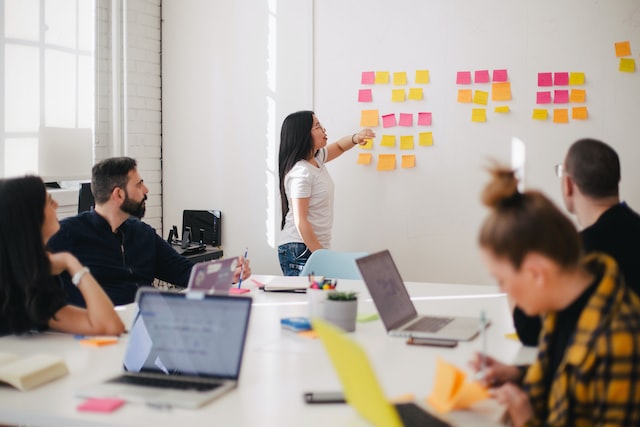 Marketing strategies vary widely depending on specific business objectives, target audiences, and industry. Some common marketing strategy types include content marketing, social media marketing, influencer marketing, video marketing, SEO marketing, email marketing, and advertising, to name a few. However, keeping up with new marketing trends is not easy, especially with today's economic uncertainties due to inflation. In spite of that, one-third of businesses are still planning to increase their marketing expenditures. 
In 2022, we witnessed a drastic shift to short-form video content, the success and failures of new platforms, and the ongoing effects of the COVID-19 pandemic. Then this year, we were thrilled with ChatGPT. In a nutshell, what worked for your marketing strategies yesterday might not work for tomorrow.
With a well-defined marketing strategy. your business is 313% more likely to thrive. How? Read on
Stay ahead of the competition
By planning your marketing strategies early, you can get ahead of your competition that may be slow to react or is still formulating its plans. It can give you an advantage regarding branding, customer engagement, and market share.
Align with business goals
You can align your marketing efforts with your overall business goals and objectives. This ensures that your marketing activities are gravitated towards your priorities and will help you achieve your desired outcomes.
Allocate resources effectively
Preparing your marketing strategies in advance allows you to allocate your resources, including time, money, and personnel, more fruitfully. It can help you optimise your marketing activities and make certain that you are getting the most bang for your buck.
Respond to changes in the market
By having a solid marketing plan in place, you can respond more quickly to changes in the market, including shifts in consumer behaviour, emerging trends, and new competitors. It allows you to adapt your marketing efforts successfully.
This 2023, 77% of consumers claim they are more likely to buy brands they relate with.
Integrate all media resources
Most marketing campaigns do not depend heavily on one channel alone to produce leads; they work perfectly by synchronising their current systems with other traditional methods. Doing this not only carries out a template for an in-depth transformation but also guarantees that your marketing teams work with each other and with your clients harmoniously.
Establish brand familiarity
Having target customers recognise your brand name is a great feeling, but make sure that your name is not what they only know about you. A compelling strategy makes people recognise your services and products in print, on the internet, or through TV and radio ads. 
Nytelock Digital: your go-to-market strategy solution provider
Developing a comprehensive marketing strategy does not happen in the blink of an eye. It takes effort, perseverance, and huge investments to see that you are making it correctly.
Nytelock Digital understands all the ins and outs of marketing, how to stand out in its competitive landscape, and the differences it can make to your ventures. We offer services like Google ranking, NFT and crypto marketing, business consulting, software development, and more.